As savvy online consumers of the 'modern times', most of us want to know where we should buy something before we start shopping around. We might occasionally get tempted by a great product or offer by some retailer which we are not familiar with, but generally, we prefer buying from retailers we or our friends know or at least have heard of before. As a result, we tend to not pay attention to most online ads as most of them seem cheap or rather misleading.
Facebook Ads, however, are much more effective at piquing people's interest. This is because they are being seen on a trustable platform or generally are just visually appealing. These ads often also align with most of our interests. We see ads regularly on Facebook and, at least to me, they are more than often something I'm definitely interested in or directly related to things I was thinking of buying.
From this figure below, we know what the content should look or feel like in a Facebook ad, but content is not important in terms of only words when it comes to ads, even in general.
So, I'm going to be sharing some of the best Facebook ads that were particularly effective, as well as ways to help you make your own Facebook ads more convincing and bang on effective!
This ad has popped up around 200 times in my News Feed but no matter how many times it came up I always kind of admired it for a few seconds because those colours just don't let me take my eyes off. It's a universally acknowledged fact that everyone hates pointless emails showering in their inbox, and the simple yet so engaging visual illustration is a powerful draw to the ad and Slack as a platform for work communication. In addition, the Call-to-action (Learn More) is also perfect as asking users to sign up only with this information might not be a very good idea.
Must Takeaways:
The snappy tagline (Make Work Better)
Experimental or imaginative imagery
First, the visual continuity from the logo to the Ad, which seamlessly reinforces the brand behind it, is very clever. Google does this all the time. Second, the ad copy uses simple active verbs and aspirational language. This helped it create excitement within the customers. Moreover, the focus on "building what's next" rather than regular features, makes the ad much more gripping, while helping users visualize what can be done with this platform. Third, the colour palette used in the ad fits well with the theme of Facebook itself and building the necessary trust and stability for consumers. Though, I believe this ad's targeting is a bit unclear, but overall the ad's nailed it!
Must Takeaways:
The superbly bold colour scheme
The active ad copy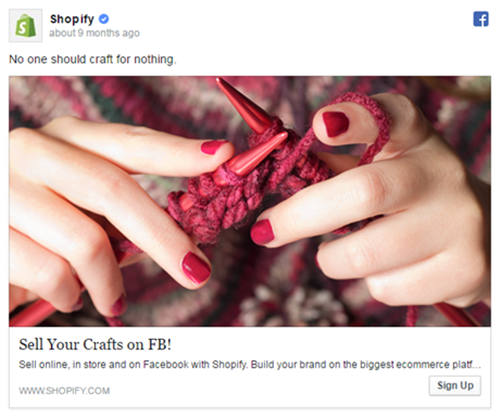 The most compelling part about the ad is its written content that shows that Shopify knows its audience well and therefore, offers them a tempting positioning. The simple images are sure to remind the viewers of something. For instance, for someone who've been making scarves for the family and friends who keep telling them to start selling them for they are so good, this ad is a sweet reminder of what they can achieve and Shopify is extending a helping hand. Inspiring language is common to most Facebook ads by Shopify.
Must Takeaways:
Aspirational/ ambitious message language
Clean minimal images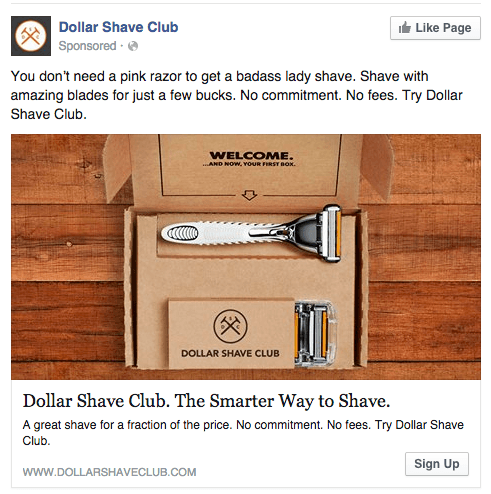 This is an extremely clever ad wherein they try to portray themselves away from the usual gender-normality and attempts to directly present its products to a specific section of its audience, i.e. women.
The ad also uses brilliantly crisp language and words that are just enough!
Must Takeaways:
Reflection of buyers' persona
The simplicity in message
Came across some better, greater and more creative ads on your Facebook wall? Share a screenshot with us too.
Share Your Thoughts
comments