Imagine how beautiful this world would have been if mom served you a glass full of beer on the breakfast table every morning and you would dunk your chocos and oreos into a bowl rimming with beer, enjoying it sip by sip. Just imagine!
Okay, stop! Come back to reality, this is never happening, never here in India at least.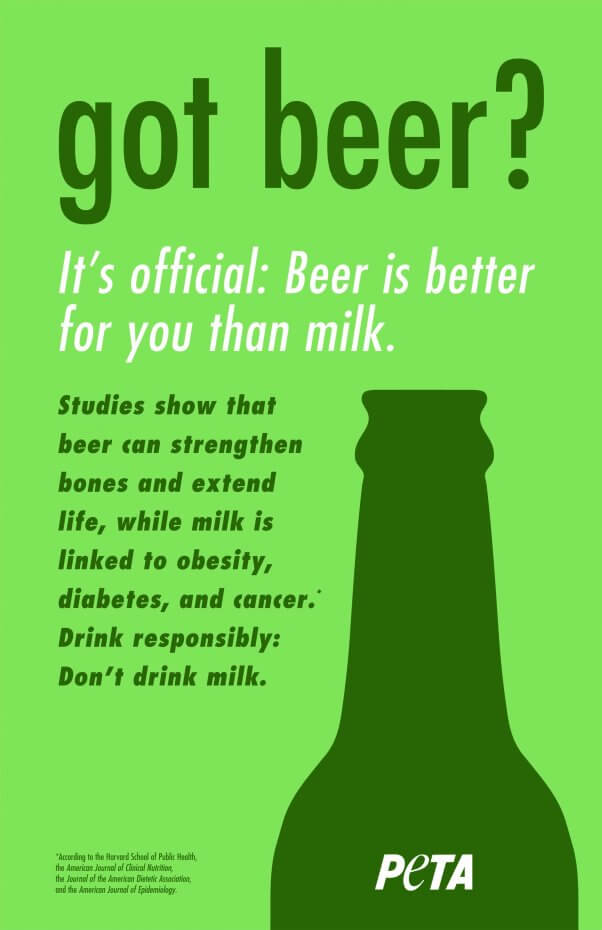 So, this started with PETA displaying a billboard right in the middle of the city in Madison (USA) that read," It's official: beer is better for you than milk."
PETA has been famous, or rather infamous, for its 'Got Beer?' campaigns that started in the year 2000 and has been popping up time and again since then. Several backlashes and controversies against this campaign resulted in them being withdrawn every time. But, this never stopped them from reoccurring.
But this time, PETA has put forward some really interesting claims about studies showing that beer extends life and strengthens bones, moving away from its usual line of animal cruelty. Though their website clears the air by claiming that the main point suggests that people drink juices, soy milk, and mineral water or even soda but cow milk and also, they do not solely promote beer drinking. However, there have been talks against it and claims made that try to falsify the campaign idea.
Meanwhile, if we see the arguments by dieticians and doctors over the benefits of milk and the nutrients we get from it, even when it may not be very necessary in a balanced diet, beer stands guilty with calories.
Just FYI, this is another smart campaign by PETA in the same respect:
So, what would you choose if given an option?
Share Your Thoughts
comments