Social media has taken over everywhere. From conversations, to articles, ads, and friends, you cannot even think about managing without your social media handles. If you too have such feelings at times, when you think back to the dark days without social media, you might either be genuinely appreciating technological advancements, or you might be an addict.
Food
Eating food has become so difficult, because no matter what you have ordered, you must click a photo of it for Instagram. And of course, no one can touch anything on the plate until the photograph is perfect and has been posted online.
The Love of Your Life
Your mobile phone is never too far out of your reach. The first thing you see when you wake up, and the last thing you see before going to sleep is your mobile, because you were checking out your News Feed and whatnot.
When the Bathroom Becomes a Vortex
If you are spending a lot of time in your bathroom, not because your stomach is upset or something, but simply because you're checking out your Facebook while doing your business, you're an addict. On the other hand, if you forget to take your phone to the bathroom, woes betide you, because it's almost the same as falling into the vortex of hell.
You Know about Your Friends
What's wrong with that? You know all about what's happening in your old friends' lives, but it's not because you guys talk a lot, you're just always on social media, so you can keep up with the smallest of updates without having to indulge in any communication.
Guess Where I Am
Everyone knows where to find you. It's not because you're a person of habit, but because even a trip to the bathroom needs to be checked-in, with at least one selfies.
Hashtag
It doesn't seem strange to you, but the word "hashtag" has made it into your regular conversations. You see someone lose a challenge and you go like "hashtag fail!"
LOL
You don't laugh at jokes anymore. You just say LOL (honestly I have friends who do that), and then if you do laugh afterwards, it's at your own cleverness.
Conversations
Speaking of conversations, you haven't had a decent or an uninterrupted conversation in a long time, because mostly you're distracted by some or the other notification and usually lose track of what was being said or what you were saying.
Selfies
Once upon a time, you used to take photos, to preserve memories and to share them later. But today; every "amazing view" you see, no one can really check out the view, because it was a selfie and your face is blocking whatever there was to see.
Knowledge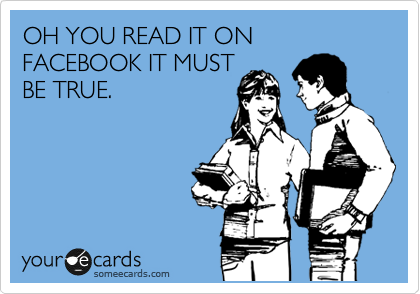 You know a lot of obscure facts and big news items only because they showed up on your News Feed.
If you had a 'yes' for three or more of these points, I've got news for you. You are an addict, and social media is your drug of choice.
Share Your Thoughts
comments